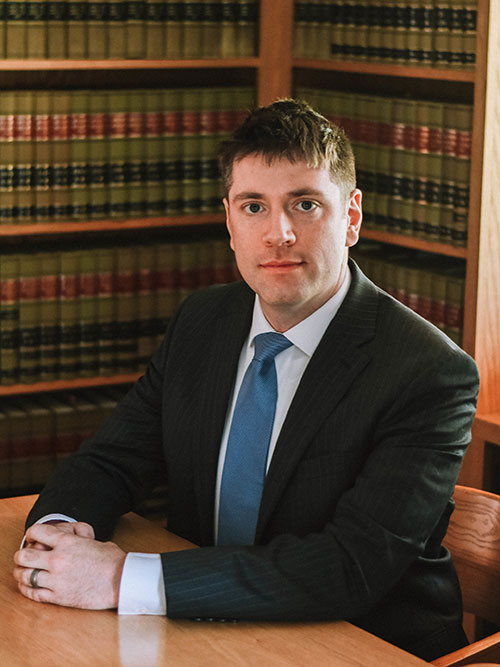 Rory O'Sullivan, specializing in litigation cases from personal injury to insurance disputes
Rory E. O'Sullivan is a trial lawyer with an extensive experience of every aspect of litigation and a formidable presence in the courthouse. He is intelligent yet practical and aggressively defends his clients' interests while also giving them great comfort and the peace of mind of knowing that their affairs are being taken care of. Rory is reasonable and forthright in his dealings with his clients' complex issues and yet shows great compassion to people, who are in a difficult time in their lives.
A native of Dublin, Ireland. Rory started his legal career in an international corporate firm in Dublin before his wife, a native of Spring Valley, brought him back to the United States. After moving to Wisconsin, Rory ran his own private practice in Spring Valley while simultaneously prosecuting for the State of Wisconsin as an assistant district attorney. In this capacity, Rory handled hundreds (perhaps thousands) of cases at all stages in proceedings. He has not kept count of the number of trials, both court and jury, which he has tried but there is no aspect of trial work, with which he is not familiar.
Rory handles litigation cases, which is to say, disputes. Whether it be a case about a personal injury, which a person sustains; an insurance dispute; a construction dispute; a breach of contract; a defamation case; or a civil rights case, Rory has likely seen it and dealt with a similar lawsuit in the past. In resolving these lawsuits, Rory is aggressive but realistic, cutting to the heart of the case quickly in order to see if the dispute can be settled and, if not, then simply giving his clients their day in court to resolve their case through trial.
In 2021, Rory was listed in Super Lawyers Magazine.
Rory lives in Hudson, Wisconsin with his wife and two children and is active and well-known in the local community. He enjoys reading, exercising and travelling in his spare time.
Practice areas:
All litigation and lawsuits
Contractual disputes
Insurance disputes
Personal injury cases
Torts, including property damage and defamation
Construction disputes
Estate disputes, including probate and trust cases
Real estate disputes, such as adverse possession or easement cases
Business disputes
Education:
Trinity College Dublin, LLB
King's College London, MA in Intellectual Property law
Licenses and certifications:
Wisconsin (2012)
United States Federal Court (WI Western District) (2012)